Ply Gem Window Hardware Parts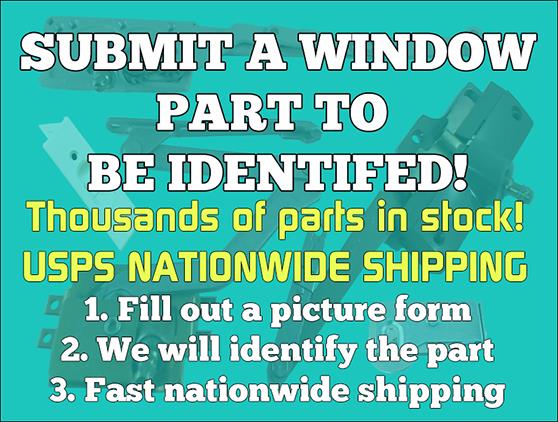 Having a way to identify your Ply Gem Window parts online should be simple.
Identifying the right parts for your Ply Gem windows can be a challenging task, but with our expert help, you can get the right parts and have them shipped to your location quickly and easily. Whether you're dealing with a broken latch, a damaged frame, or a malfunctioning window lock, our team is ready and willing to assist you. Contact us today to learn more about our Ply Gem window part identification and shipping services.
Welcome to our window part identification and shipping services, where we specialize in providing accurate identification for various window brands, including Ply Gem. We understand the challenges of finding the right parts for your windows, especially if they're no longer in production or were installed many years ago. That's why our team of experts is dedicated to helping you get the right part and shipping it to your location, no matter where you are in the country. In this article, we'll discuss everything you need to know when it comes to identifying parts for Ply Gem windows.
About Ply Gem Windows
Ply Gem is a trusted brand in the window industry, known for its high-quality products ranging from windows, doors, siding, and more. The company was founded in 1943 and has since been committed to providing innovative and energy-efficient solutions to homeowners and builders across North America. Ply Gem windows are available in different materials, styles, and colors designed to meet the unique needs of customers, whether they're looking for traditional or contemporary designs.
Identifying Parts for Ply Gem Windows
When it comes to identifying parts for Ply Gem windows, it's essential to have the correct information about the window type, style, and age. Most hardware manufacturers produce parts that are specifically made for particular window models, and Ply Gem is no exception. Here are a few steps you can take to identify your Ply Gem window:
1. Look for a label or tag – Most Ply Gem windows have a label or tag on the frame, which contains crucial information about the window's manufacturer, model, and manufacturing date. The label is typically located in the top or bottom channel of the operating sash or on the jamb of the frame.
2. Take measurements – If you cannot locate the label or tag, taking accurate measurements of the window's dimensions can help you narrow down the potential parts you need. Measure the width, height, and depth of the frame and the sash, as well as the distance between the screw holes on the window hardware.
3. Take pictures – If you're not sure what your window looks like and cannot find a label or tag, you can take pictures of the window and hardware and share them with our team. We have a wealth of experience identifying parts based on pictures and can quickly point you in the right direction.
Once you have the relevant information about your Ply Gem window, you can start looking for the parts you need. Our team is ready to assist you in identifying the parts, and we often recommend OEM (Original Equipment Manufacturer) parts to ensure a proper fit and longevity.
Shipping Parts Nationwide
Once you have identified the parts you need for your Ply Gem window, it's time to get the parts shipped to your location. At our company, we offer an easy-to-use online ordering system that allows you to select the parts you need and complete your purchase quickly. We have a massive inventory of Ply Gem window parts, and we ship nationwide, ensuring that you receive your order in a timely manner.
We understand how crucial it is to get your windows repaired or replaced quickly, especially if you're dealing with a broken or damaged part. That's why we strive to ship orders as soon as possible, often within one business day of receiving an order. We also offer reliable shipping carrier options that allow us to reach many parts of the country efficiently.
Benefits of Our Services
Choosing our window part identification and shipping services comes with several benefits, including:
1. Accurate part identification – Our team has years of experience identifying window parts from different manufacturers, including Ply Gem. We use this expertise to ensure that you receive the right parts your windows need.
2. Fast shipping – We understand the importance of timely shipping, and we strive to ship orders the same day or next day, depending on the time of the order.
3. Wide selection – We have an extensive inventory of window parts, including those for Ply Gem windows. This means you're more likely to find the exact part you need to get your windows back to peak condition.
4. Competitive pricing – Our pricing is competitive, ensuring that you get quality parts at affordable prices. We also offer discounts for bulk orders.
5. Excellent customer service – We are committed to providing excellent customer service and will work with you throughout the process to ensure a smooth and hassle-free experience.
Frequently Asked Questions
Can you help me identify parts for my Ply Gem windows if I don't have a label or tag? Yes, we have experience identifying parts based on pictures, measurements, and descriptions of the windows and hardware.
How long does it take to receive my order once I place it? We typically ship orders the same day or next day, depending on the time of the order. Shipping times vary based on the destination, but we offer reliable carrier options that often reach most parts of the country within a few days.
Do you only sell OEM parts for Ply Gem windows? We recommend OEM parts whenever possible, but we also offer high-quality aftermarket parts that can work well for certain window models.
Do you offer warranties on the parts you sell? We offer a limited warranty on the parts we sell, and we stand behind the quality of our products. If you have any issues with your order, contact us, and we'll work to resolve the issue promptly.
What if I order the wrong part or change my mind after placing an order? We have a comprehensive return policy that covers returns and exchanges, and our team is always available to help you with any issues or concerns.
We've in stock: Ply Gem Window Casement Operators, Ply Gem Window Awning Operators, Ply Gem Window Casement Hinges, Ply Gem Window Pivot Bars, Ply Gem Window Sweep / Tilt Latches and Ply Gem Window Balancers Ply Gem Window weather stripping, Ply Gem Window hinges, Ply Gem Window door closers, Ply Gem Window closets, Ply Gem Window locker hardware, Ply Gem Window patio door hardware and Ply Gem Window operators
---
Disclaimer: Please note that we are an independent entity and are not affiliated with or endorsed by the aforementioned company. Our services solely focus on providing part identification assistance by utilizing the information you provide and forwarding it to various suppliers or sources. Furthermore, we cannot be held liable for any transactions, disputes, damages, or losses arising from your interactions or dealings with the suppliers or sources we connect you with. Any reliance on the information provided by us or the suppliers is at your own risk.
All trademarks, or trade names mentioned or used on this website, or any related materials are the exclusive property of their respective owners. The use or mention of these trademarks, or trade names does not imply any endorsement, sponsorship, or affiliation with this platform or its operators unless expressly stated otherwise. Any references made to third-party trademarks, trade names, or logos are solely for informational purposes of such intellectual property.