Vista Window Hardware Parts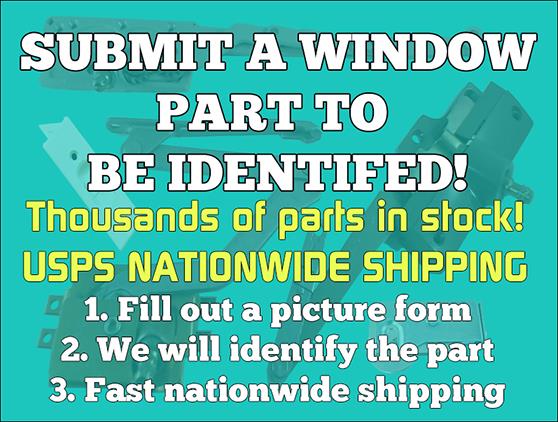 Having a means to identify your Vista Window parts online should be simple.
Unfortunately, Vista Windows are no longer available as a brand. The company closed its doors in 2019. However, if you have an older property that still uses Vista windows, and the window needs repairing or replacement, we can still help. We provide window part identification services and shipping of the Vista window parts nationwide, so you can still repair or replace your Vista window.
We Identify Parts for Vista Windows
Windows are an essential part of any building; they provide light, air, and a view of the outside world. A well-maintained window can last for years, but depending on the weather and other factors, the window parts can deteriorate, break, or wear out. Repairing or replacing window parts can be a challenge, especially if it's an older window or a discontinued brand. Vista Windows was a popular window brand for many years, and while the company doesn't operate anymore, many homes and buildings still have Vista windows installed. We provide window part identification services and shipping of the parts nationwide, including for Vista windows.
About Vista Windows
Vista Windows was a company that manufactured residential and commercial grade windows. They began in the early 1980s and became a well-known manufacturer of high-quality windows. They produced various types of windows, including double-hung, casement, awning, sliding, and picture windows. They also made patio and French doors. The windows and doors were designed to reduce energy costs, enhance security and increase natural light. While the company did well for many years, they closed their doors in 2019, and their manufacturing facilities were purchased by another window manufacturer.
Vista Windows had a reputation for manufacturing quality windows that would last for years. Their windows were energy-efficient, designed to reduce drafts and prevent heat loss during colder months, and keep cool air in during the summer months. They also had top-of-the-line security features, which ensured that intruders could not easily break into the window. Vista windows were a popular choice among homeowners and building owners alike. Unfortunately, however, since Vista is no longer in business, repairing or replacing Vista windows can be challenging, but that's where we come in – we help identify parts for Vista windows.
Why Is It Important To Identify The Right Window Parts?
When a window part needs repairing or replacement, it's essential to identify the correct part. This is essential to ensure that the window works properly and functions to its original capacity. Replacing the wrong part can result in the window not opening or closing correctly, drafts, or even impact the window's structural integrity. Identifying the right window part is also crucial because different windows have different hardware, and using the wrong part might damage the window frame or glass.
How Can You Identify Vista Window Parts?
Identifying Vista window parts can be complicated, especially with the brand no longer operating. At our window part identification services, we specialize in identifying and supplying window parts, including Vista windows. There are several ways you can identify your Vista window parts. Firstly, you can identify the parts by using the window's hardware, which will usually have the manufacturer's name and the part number. You can also identify the parts by the style of the window, and sometimes the part will have a serial number. We use our expertise and experience to help you identify the right part for your Vista window so you can avoid the guesswork and get the job done right the first time.
What Types Of Vista Window Parts Do We Offer?
At our window part identification services, we offer a wide range of Vista window parts. From the sash lock to the pivot bar, balance springs, tilt latches, and more. Whether you need a specific hardware piece or are replacing multiple parts for a complete window repair or overhaul, we cater to all your needs. We offer factory replacement parts, generic replacement parts, and sometimes custom parts to ensure the perfect fit.
Where Do We Ship Vista Window Parts?
We offer nationwide shipping for Vista window parts anywhere in the United States. Whether you're in California or New York, or a small town without a hardware store nearby, we can send the parts you need directly to your doorstep. Our shipping is fast and reliable, and our customer service is unparalleled. We ensure that we get the parts to you as quickly and efficiently as possible, so you can start your window repair project as soon as possible.
How Much Do Vista Window Parts Cost?
The cost of Vista window parts can depend on various factors, including the window size, type, style, and age. At our window identification services, we offer competitive prices for all our window parts, including Vista window parts. We strive to keep our prices affordable and accessible to all our customers, without sacrificing on quality. We provide a free quote for all our services, so you can know the exact cost upfront before purchasing any parts.
How Long Does It Take To Receive Vista Window Parts?
At our window identification services, we understand that our customers need their parts urgently, which is why we provide fast and reliable shipping options. Depending on your location and when you place your order, you can expect your Vista window parts to arrive within 1-7 business days. We also offer expedited shipping for urgent orders, but additional charges may apply.
How Do I Install Vista Window Parts?
Installing Vista window parts can be a bit challenging, especially if you aren't familiar with the process. We recommend that you consult a professional window installer or contractor. They will have the necessary skills and tools to install the new window parts correctly. If you prefer to do it yourself, we recommend that you read the manufacturer's instructions carefully or watch online tutorials that provide step-by-step instructions on how to install the part correctly.
We've in stock: Vista Window Casement Operators, Vista Window Awning Operators, Vista Window Casement Hinges, Vista Window Pivot Bars, Vista Window Sweep / Tilt Latches and Vista Window Balancers Vista Window weather stripping, Vista Window hinges, Vista Window door closers, Vista Window closets, Vista Window locker hardware, Vista Window patio door hardware and Vista Window operators
---
Disclaimer: Please note that we are an independent entity and are not affiliated with or endorsed by the aforementioned company. Our services solely focus on providing part identification assistance by utilizing the information you provide and forwarding it to various suppliers or sources. Furthermore, we cannot be held liable for any transactions, disputes, damages, or losses arising from your interactions or dealings with the suppliers or sources we connect you with. Any reliance on the information provided by us or the suppliers is at your own risk.
All trademarks, or trade names mentioned or used on this website, or any related materials are the exclusive property of their respective owners. The use or mention of these trademarks, or trade names does not imply any endorsement, sponsorship, or affiliation with this platform or its operators unless expressly stated otherwise. Any references made to third-party trademarks, trade names, or logos are solely for informational purposes of such intellectual property.