Semco Hardware Parts
Having a way to identify your Semco Window Parts online should be simple.
This company is now out of business, but we can assist you with many different Semco window parts such as the balance systems, operators tilt latches and pivot bars for your window. We can assist you with all your Semco Replacement Parts needs either in stock or available to order. We ship out nationwide to all 50 states and if you submit a picture of your component, we will figure out exactly which one you need and get you a cost.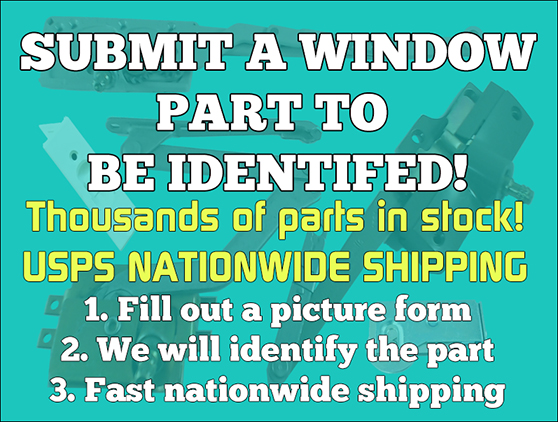 We stock all Semco window hardware, if you require any exact part you can give us a phone call or browse our website for more information on the item that you may need.
Semco Replacement Parts
We can install at your home or we can deliver it to your home, and you can have a handyman install it when you are ready. We have no minimums for our pricing, and we will provide any service you request. We have over 30 years of experience identifying your replacement parts. Our experience includes installing most of the major brands of operators, glass units, pivot bars, balancing systems, and jamb liners.
If you cannot find the exact Semco replacement parts you need or the component you want is not in stock, just ask for a quote and we will get you it in a timely manner. Our pick and place orders system ensure that your window part is shipped to you as soon as the order is available. We have access to all the window replacement parts in the industry and are your one stop for all Semco window parts. If you are looking for the perfect replacement hardware for your window, we are your company.
This cost includes shipping and insurance. Orders may be placed over the phone or on our website. We only require some original pictures of your parts to request an order. Our local center is open for walk-ins Monday through Friday, and Saturdays 10 a.m. to 6 p.m. Please call for appointment if you need something quickly. You can call us for advice, questions or to schedule a service call for your window. We look forward to helping you fix your current sliding doors or windows with the same quality we are known for in the industry.
Our licensed team can help you to find the repair parts you will need for the broken or damaged windows quickly. We provide many different styles of parts for the manufacturer (Gapco). If the window isn't working properly, Identify Parts may be the one company that you'll want to fill in a form request with. Our company will identify and ship you out parts so that you could repair should your window does not close, go up and down or gets stuck and offers a site to assist you find the thing you need and never having to look thru booklets and manuals of similar parts. Please give us a call for the replacements and window repair services you require the most.
We have in stock: Semco Window Casement Operators, Semco Window Awning Operators, Semco Window Casement Hinges, Semco Window Pivot Bars, Semco Window Sweep / Tilt Latches and Semco Window Balancers Semco weather stripping, Semco Window hinges, Semco Window door closers, Semco Window cupboards, Semco Window locker hardware, Semco Window patio door hardware and Semco Window operators.
We also take online orders! Please submit a picture of your Semco Hardware for Windows and we will let you know if we can accomplish the request. If you would like us to assist with custom parts on your window, we are always happy to help. Contact our sales team. We can assist you with all of your items or handyman-related needs. We have a highly trained & experienced customer service department with over 30 years of experience and have helped thousands of customers with window replacement parts.
Of course, you can "submit a part" of the other options below to get better pricing. Contact us to get a copy of our parts catalog. Thank you for checking out our business. We love to help you build or modify your window system. We also offer "complete" window replacement part sets. Our hardware looks identical to the original manufacturer, but they have different components. You may be able to get more for the same dollar, but we can make up the difference if you are willing to pay for a price match. Please click for more details.
What is Semco?
Semco is a well-respected window manufacturing company that has been in business for over 60 years. They manufacture a wide variety of windows, including casement windows, double-hung windows, picture windows, and sliding windows. Semco is known for their high-quality and energy-efficient products, which have been praised for their durability and energy efficiency. They offer windows in a wide range of sizes, shapes, and colors, with custom options available for a more personalized approach.
Common Challenges With Semco Windows
While Semco has a reputation for building high-quality windows, sometimes their windows need repairs or replacements of specific parts. With so many different models of Semco windows and parts available, identifying the correct part can be a frustrating and time-consuming experience for DIYers and technicians alike. Common issues that might arise include worn-out or damaged weather stripping, poorly functioning window latches, damaged screens, broken glass panes, or worn-out glazing.
How We Identify Semco Parts
We offer a comprehensive Semco window part identification service to help ease the frustration of identifying the right window part. Our process is straightforward and designed to be as easy and hassle-free as possible. The process is outlined below:
1. Contact us with your window model and problem
2. Provide pictures of the entire window
3. Take pictures of the specific part you need replacing
4. We identify the right part and send it to you
Benefits of Our Semco Window Part Identification Service
Several benefits come with using our Semco window part identification services. Some of these benefits include:
1. Saves Time: Our identification process saves time and frustration, quickly identifying the right part.
2. Saves Money: Identifying the correct part quickly saves money, as the right part is found and installed the first time.
3. Nation-Wide Shipping: As a nation-wide service, we help Semco window owners across the country identify their window parts.
4. Professional Expertise: Our experienced professionals are on hand to troubleshoot your issues and provide useful advice.
5. Comprehensive: We can help you identify any part you need for your Semco window.
Ordering Semco Parts With Our Part Identification Service
Our Semco window part identification services provide a smooth and hassle-free process of sourcing the parts you need. Once we identify the part you need, simply place your order with us, and we will send it to you. We ship nationwide and make the process as easy and straightforward as possible.
Tips for Dealing With Semco Window Parts
While dealing with Semco windows, it is essential to take certain precautions to avoid further damages. Here are some helpful tips that can help you deal with your Semco window parts more efficiently.
1. Take multiple pictures of the entire window, showing both the inside and the outside.
2. Take clear and detailed pictures of the damaged or failed component that needs replacing.
3. Be cautious when removing the faulty part, so you don't damage any other parts in the process.
4. When ordering replacement parts, confirm the model number, size, and type of window to ensure correct parts are shipped to you.
Frequently Asked Questions
Can I identify Semco window parts on my own? Yes, if you have the technical knowledge, but it can be time-consuming and frustrating.
How long does the Semco window part identification process take? We aim to identify parts as quickly as possible, usually within 24 hours of receiving your request.
Do you offer nation-wide shipping of Semco window parts? Yes, we offer nation-wide shipments, making it possible for anyone with Semco windows to replace their parts easily.
Is it possible to repair Semco windows? Yes, Semco windows are repairable. Many common issues like damaged weather stripping and broken glass can be fixed.
How do I ensure that the part I order is compatible with my window? Confirm the model number, size, and type of window with our professionals, so we send the right component.
Is it cost-effective to replace my Semco window parts instead of buying an entirely new window? Yes, replacing parts may be more cost-effective than replacing the entire window, depending on the extent of the damage.
How do I know if my Semco window is still under warranty? Contact Semco directly or check the warranty coverage that was supplied with your window.
Can I replace Semco window parts if I am not a professional? Yes, you can replace Semco window parts, but it may require certain technical knowledge and tools.
How can I tell if I need to replace my Semco window entirely? If the window is beyond repair, like extensive rot or water damage, then it might be best to replace the window entirely.
Semco windows are known for their premium quality, but sometimes, repairs and replacements are necessary. With our Semco window part identification services, identifying the right window component is hassle-free and straightforward. Our comprehensive approach ensures the correct part is identified, saving time and money for window owners across the country. With our tips and suggestions, managing your Semco windows is more accessible than ever before.
---
Disclaimer: Please note that we are an independent entity and are not affiliated with or endorsed by the aforementioned company. Our services solely focus on providing part identification assistance by utilizing the information you provide and forwarding it to various suppliers or sources. Furthermore, we cannot be held liable for any transactions, disputes, damages, or losses arising from your interactions or dealings with the suppliers or sources we connect you with. Any reliance on the information provided by us or the suppliers is at your own risk.
All trademarks, or trade names mentioned or used on this website, or any related materials are the exclusive property of their respective owners. The use or mention of these trademarks, or trade names does not imply any endorsement, sponsorship, or affiliation with this platform or its operators unless expressly stated otherwise. Any references made to third-party trademarks, trade names, or logos are solely for informational purposes of such intellectual property.