Seaway Window Hardware Parts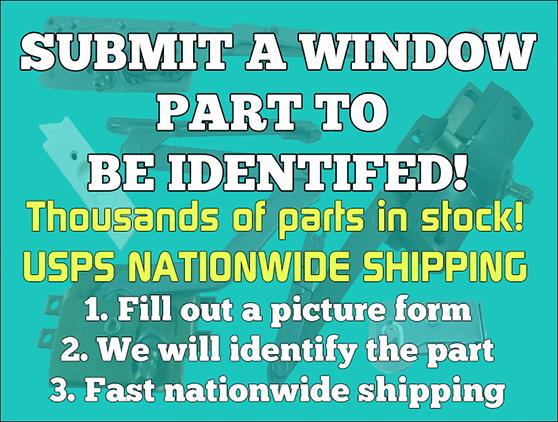 Having a way to identify your Seaway Window parts online should be simple.
Not sure what type of Seaway part you need? Send us over a few good photos and our team will identify the Seaway hardware that you need and get you a price. We ship nationwide to all 50 states and Canada. Just contact IdentifyParts.xyz for all your Seaway replacement part needs.
We Identify Parts for Seaway Windows
If you're looking for high-quality windows, Seaway is a great option. Seaway is known for producing windows that are durable, energy-efficient, and aesthetically pleasing. But like any other windows, Seaway windows can also experience wear and tear, and their parts can get damaged over time. This is where Seaway window part identification services come in. In this article, we'll take a closer look at Seaway windows, the importance of identifying Seaway window parts, and the benefits of using our identification and shipping services.
Seaway Windows Overview
Seaway is a window manufacturer that has been in operation for over six decades. They produce a wide range of windows, including double-hung, casement, awning, and sliding windows. Seaway windows are known for their versatility, energy efficiency, and low maintenance, and they're offered in a variety of styles, colors, and accessories to ensure that homeowners can customize their look.
One of the reasons why Seaway is a respected brand is that it uses high-quality materials to manufacture its windows. For instance, the company's vinyl windows are made of uPVC (unplasticized polyvinyl chloride), a material that is known for its durability, thermal insulation, and resistance to rot, corrosion, and fading. Seaway also uses fusion-welded corners to ensure that its windows have airtight seals. This prevents air leakage, which can lead to increased energy bills and reduced comfort.
Why Identify Seaway Window Parts?
Like any other windows, Seaway windows can also experience wear and tear, and their parts can get damaged or broken over time. When this happens, it's crucial to identify the specific parts that need replacement quickly. Identifying the parts will save you time and money since you won't have to replace the entire window.
Moreover, identifying Seaway window parts is important because it helps preserve the integrity of your windows. If you use non-Seaway parts, you may void the manufacturer's warranty and compromise the windows' performance and energy efficiency. Using the correct parts also ensures that the windows fit correctly and function optimally, which protects your investment.
At our identification service, we help homeowners to identify Seaway window parts by using our expert knowledge and catalog of quick-reference guides. We examine the damaged parts, identify them, and provide the most cost-effective solution. This service helps homeowners save time and money, which should be a top priority with any home renovation or repair project.
Benefits of Our Seaway Window Part Identification and Shipping Services
Our Seaway window part identification and shipping services come with various benefits, chief among them being convenience. Identifying the correct window parts can be challenging for homeowners who lack the technical expertise to do so. This is where our identification service comes in. We have a team of experts who can easily pinpoint the specific parts that need replacement, ensuring that the windows perform optimally.
Another advantage of using our identification and shipping services is that we provide fast and efficient shipping. Once we identify the required parts, we take care of shipping, ensuring that the parts reach you on time. We use reliable carriers, which reduces the risk of damage or loss during transit. Our window parts are available nationwide, so regardless of where you're located, you can access our identification and shipping services.
Lastly, our services provide homeowners with cost savings. If you're not familiar with window parts, it can be tempting to replace the entire window. This can be an unnecessary expense, and that's where our identification service comes in. We provide homeowners with the correct identification for their Seaway window parts while offering them the most cost-effective solution possible.
Frequently Asked Questions
Are Seaway windows energy-efficient? Yes, Seaway windows are energy-efficient. They're made of uPVC, which provides insulation and prevents air leakage.
How long do Seaway windows last? Seaway windows' manufacturer provides a 20-year warranty, but they can last up to 30+ years with proper maintenance.
Can I replace Seaway window parts myself? It's not recommended to replace Seaway window parts if you lack the technical knowledge and experience. You can contact our identification service for help.
Do Seaway windows come in custom sizes? Yes, Seaway windows come in custom sizes to fit the specific needs of a homeowner.
Where are Seaway windows made? Seaway windows are made in Erie, Pennsylvania.
How do I know if I need to replace my Seaway windows? If your Seaway windows have visible cracks, leaks, or drafts, you should consider replacing them.
How long does it take to identify and ship Seaway window parts? The identification process takes 24-48 hours. Shipping time varies depending on the location but typically takes 3-5 business days.
What are some of the most common Seaway window parts that need replacement? The most common Seaway window parts that need replacement are balances, sash locks, and latches.
How can I reduce the need for Seaway window parts replacement? You can reduce the need for Seaway window parts replacement by cleaning and maintaining your windows regularly. This includes checking for drafts, cleaning and lubricating moving parts, and inspecting for damage.
We've in stock: Seaway Window Casement Operators, Seaway Window Awning Operators, Seaway Window Casement Hinges, Seaway Window Pivot Bars, Seaway Window Sweep / Tilt Latches and Seaway Window Balancers Seaway Window weather stripping, Seaway Window hinges, Seaway Window door closers, Seaway Window cabinets, Seaway Window locker hardware, Seaway Window patio door hardware and Seaway Window operators
---
Disclaimer: Please note that we are an independent entity and are not affiliated with or endorsed by the aforementioned company. Our services solely focus on providing part identification assistance by utilizing the information you provide and forwarding it to various suppliers or sources. Furthermore, we cannot be held liable for any transactions, disputes, damages, or losses arising from your interactions or dealings with the suppliers or sources we connect you with. Any reliance on the information provided by us or the suppliers is at your own risk.
All trademarks, or trade names mentioned or used on this website, or any related materials are the exclusive property of their respective owners. The use or mention of these trademarks, or trade names does not imply any endorsement, sponsorship, or affiliation with this platform or its operators unless expressly stated otherwise. Any references made to third-party trademarks, trade names, or logos are solely for informational purposes of such intellectual property.