Croft Hardware Parts
Having a way to identify your Croft Window Parts online should be easy.
Identify Parts has provided Croft part identification and window hardware replacement parts over fifteen years we always provide a fantastic service and backing it up with our knowledgeable window parts team. Our trained staff is professional and qualified to handle any kind of hardware identification. Need a component now? We will be happy to discuss our Croft identification service for your home or rental property.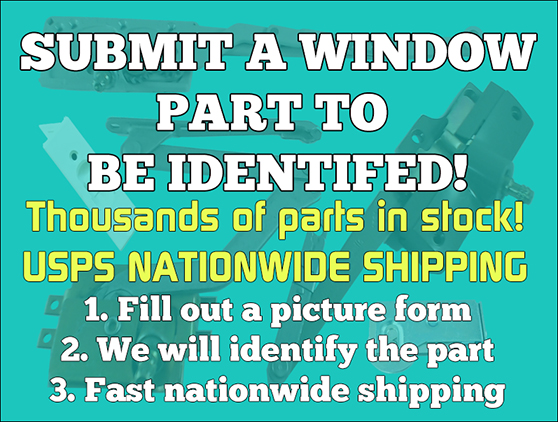 Croft Window Parts
Our company can help with that by providing Croft window part identification services and options for nationwide shipping. We will examine the Croft windows brand, its background, and the various components of a Croft window in this article. We will also talk about our services and how using them as a homeowner can help you.
Overview of Croft Windows:
Croft Windows began operations in Paducah, Kentucky, more than 70 years ago. Since then, the business has grown to include a number of states in the union, including Ohio and Mississippi. High-quality vinyl windows from Croft are renowned for their exceptional energy efficiency, toughness, and security. For the aesthetic of any home, Croft Windows provide a wide selection of window sizes and styles. For distinctive home designs, Croft also provides options for custom sizing.
Parts of a Croft Window:
A Croft window is made up of several parts that work together to provide security, energy-efficiency, and functionality. Some of these parts include:
Frame: The frame is the outermost part of the window and provides support for the glass and hardware. Croft windows are made with vinyl frames, which are durable, low-maintenance, and energy-efficient. Croft frames come in a variety of colors and styles to match any home aesthetic.
Glass: The glass is the most prominent part of a window and plays a crucial role in energy-efficiency and insulation. Croft windows offer double or triple-pane glass options, which helps to reduce energy costs by providing added insulation and noise reduction. Croft glass also features a low-E coating, which can reflect heat and prevent UV damage to furniture and flooring.
Hardware: The hardware of a window includes the handles, locks, and hinges. Croft offers a variety of hardware options, including traditional and contemporary styles, to match any home's aesthetic. The hardware also plays a role in the window's security, with Croft offering locks and handles that exceed industry standards for security.
Weatherstripping: Weatherstripping is the material located around the window frame that helps to prevent air, water, and insects from entering the home. Croft windows feature high-quality weatherstripping that is designed to withstand extreme weather conditions.
Our Services:
In order to make it simple for homeowners to locate the Croft window parts they need, our company offers Croft window part identification services. Our team of experts has experience with Croft windows, and they can help you find any broken or damaged parts. We not only have the ability to identify all Croft window parts, but we also provide options for nationwide shipping. We are a top choice for homeowners in need of replacement parts because of our reasonable prices and expertise with Croft windows.
How Our Services Benefit You:
Our services benefit homeowners in several ways, including:
Time-saving: Identifying the right parts for your Croft windows can be time-consuming and frustrating. Our team of experts can quickly identify the parts you need, saving you valuable time.
Cost-effective: Replacing an entire Croft window can be expensive, especially if only one or two parts are damaged. Our identification services and nationwide shipping options make it easy and affordable to replace only the parts you need, saving you money in the long run.
Expertise: Our team of experts specializes in Croft windows and has the knowledge and experience to identify the exact parts you need. With our guidance, you can be confident that you are purchasing the right parts for your Croft windows.
Convenient:
It is simple and convenient to order Croft window parts from anywhere in the country thanks to our nationwide shipping options. From the comfort of your home, you can place an order, and we will send the parts right to you.
Frequently Asked Questions:
How do I know if I need to replace a part on my Croft window? If your Croft window is not functioning properly or is damaged, you may need to replace a part. Common issues include difficulty opening or closing the window, air or water leaks, or broken hardware.
Can I replace parts on my own, or do I need a professional? Depending on the level of expertise and experience with window repairs, homeowners can attempt to replace parts on their own. However, for complex repairs or installations, it may be best to seek the assistance of a professional.
How long does it take to receive my Croft window parts? We offer nationwide shipping options, and the delivery time will depend on your location. Typically, orders are received within 3-5 business days.
Are there any maintenance requirements for Croft windows? Croft windows require minimal maintenance, such as routine cleaning and lubrication of moving parts.
For homeowners, Croft windows offer the highest levels of quality, energy efficiency, and security. But over time, components could deteriorate or break, necessitating replacement. We provide part identification services and nationwide shipping options for all Croft windows as a business that specializes in Croft window repairs. Our services offer homeowners professional advice, convenience, and time and money savings during the replacement process.
---
Disclaimer: Please note that we are an independent entity and are not affiliated with or endorsed by the aforementioned company. Our services solely focus on providing part identification assistance by utilizing the information you provide and forwarding it to various suppliers or sources. Furthermore, we cannot be held liable for any transactions, disputes, damages, or losses arising from your interactions or dealings with the suppliers or sources we connect you with. Any reliance on the information provided by us or the suppliers is at your own risk.
All trademarks, or trade names mentioned or used on this website, or any related materials are the exclusive property of their respective owners. The use or mention of these trademarks, or trade names does not imply any endorsement, sponsorship, or affiliation with this platform or its operators unless expressly stated otherwise. Any references made to third-party trademarks, trade names, or logos are solely for informational purposes of such intellectual property.