Fenestra Hardware Parts
Having a way to identify your Fenestra Window Parts online should be simple.
Identify Parts has provided Fenestra part identification and window hardware replacement parts over fifteen years we always provide a good service and backing it up with this knowledgeable window parts team. Our trained staff is professional and qualified to handle any type of hardware identification. Need a part now? I will be thrilled to discuss our Fenestra identification service for your home or rental property.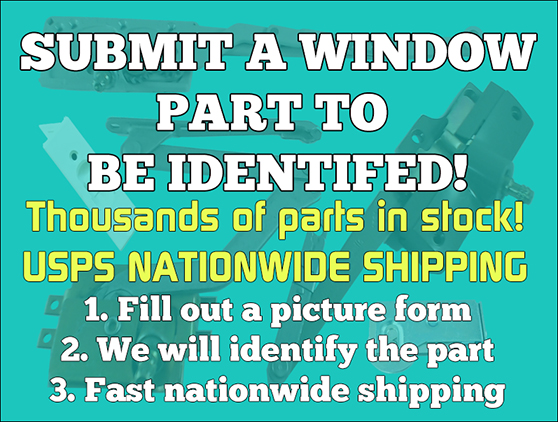 Fenestra Window Parts
Not sure what type of Fenestra part you need? Send us over a few good photos and our team will identify the Fenestra hardware that you need and get you a price. We ship nationwide to all 50 states and Canada.
Fenestra Windows is a popular brand of windows that offer a range of benefits, including energy efficiency, durability, and style. However, like any other product, Fenestra windows may suffer wear and tear over time, leading to the need for replacement parts. This is where we come in – we offer window part identification services and shipping of the parts nationwide. Our goal is to ensure that your Fenestra windows remain in peak condition and function optimally for years to come.
Identification of Fenestra Window Parts
Our window part identification process is a straightforward and stress-free process that involves a few simple steps. First, you will need to provide us with vital information about your window, including its type, model, and dimensions. This information enables us to get a clear idea of what parts you need and how to identify the correct ones.
Next, we employ our expertise to identify the specific parts you require, whether it is a locking mechanism, a hinge, a handle, or any other essential part. Once we establish the exact parts you need, we can advise you on the best options for replacement parts, including whether you should opt for an OEM or aftermarket replacement.
Nationwide Shipping of Fenestra Window Parts
After identifying the required parts, we proceed to ship them to your location anywhere in the country. Our shipping process is fast, reliable, and efficient, ensuring that you receive your Fenestra window parts promptly. We understand how crucial it is to get your windows back to functioning optimally, and we prioritize the delivery of parts quickly. We utilize safe and reliable transportation methods to ensure that your parts remain in excellent condition during transit.
Tips for Maintaining Fenestra Windows
While we aim to provide exemplary services concerning Fenestra window part identification and shipping, it is essential to take measures to maintain your windows' health. One of the primary factors that determine the durability and functionality of your Fenestra windows is their maintenance. Here are some useful tips for maintaining your Fenestra windows:
1. Regular cleaning- Regular cleaning of your windows keeps them free of dirt and debris, which may damage the frame, sash, or hardware. Use a soft cloth and a mild detergent to clean the window surfaces.
2. Lubrication- Hinges and locks may require periodic lubrication using a silicone-based lubricant.
3. Inspection- Regular inspection of your windows allows you to identify potential problems before they escalate. Check out for signs of wear, damage, or decay, and address any issues immediately.
4. Professional inspection- Have a professional inspect your windows periodically to ensure they are in top condition.
Advantages of Using Our Services
There are numerous benefits to enlisting our services for Fenestra window part identification and shipping. These benefits include:
1. Expertise – Our team comprises professionals with vast knowledge and experience in Fenestra windows. We have mastered all the essential details about Fenestra window models, parts, and their functionality.
2. Genuine parts – Our priority is to provide our clients with genuine OEM parts that perfectly fit the specific Fenestra window model.
3. Nationwide coverage – We provide our services across the country, ensuring that our clients receive their parts promptly and conveniently.
4. Fast shipping- We understand the urgency of replacing damaged parts, and our shipping process is efficient and reliable.
5. Cost-effective- Our services are highly affordable, and we ensure that clients get value for their money.
Frequently Asked Questions
How do I identify the specific Fenestra window part I need? You can use our window part identification services, which involve providing us with essential information about your window, such as its type, model, and dimensions.
How long does it take to receive my Fenestra window parts after making an order? We ensure speedy and timely delivery of parts to our customers, and the exact time of delivery depends on your location.
Can I install my Fenestra window parts myself? We recommend that you enlist the services of a professional for the installation of Fenestra window parts.
How often should I clean and inspect my Fenestra windows? Regular cleaning and inspection of your windows are necessary for their proper functionality. Cleaning should be done regularly, while inspection should be done periodically, preferably once a year.
How much do your Fenestra window part identification and shipping services cost? Our services are highly affordable, and the cost depends on the specific window part and shipping distance.
Can I place an order for Fenestra window parts over the phone? Yes, you can place an order for Fenestra window parts over the phone.
Do you provide warranties for Fenestra window parts? Yes, we provide warranties for all Fenestra window parts purchased through our services.
Do you offer installation services for Fenestra window parts? No, we do not offer installation services for Fenestra window parts.
How do I contact you for Fenestra window part identification and shipping services? You can contact us through our website, phone, or email for Fenestra window part identification and shipping services.
---
Disclaimer: Please note that we are an independent entity and are not affiliated with or endorsed by the aforementioned company. Our services solely focus on providing part identification assistance by utilizing the information you provide and forwarding it to various suppliers or sources. Furthermore, we cannot be held liable for any transactions, disputes, damages, or losses arising from your interactions or dealings with the suppliers or sources we connect you with. Any reliance on the information provided by us or the suppliers is at your own risk.
All trademarks, or trade names mentioned or used on this website, or any related materials are the exclusive property of their respective owners. The use or mention of these trademarks, or trade names does not imply any endorsement, sponsorship, or affiliation with this platform or its operators unless expressly stated otherwise. Any references made to third-party trademarks, trade names, or logos are solely for informational purposes of such intellectual property.