Gapco Hardware Parts
Having a way to identify your Gapco Window Parts online should be simple.
Identify Parts has provided Gapco part identification and window hardware replacement parts over fifteen years we always provide a good service and backing it up with this knowledgeable window parts team. Our trained staff is professional and qualified to handle any kind of hardware identification. Need a part now? I will be pleased to discuss our Gapco identification service for your home or rental property.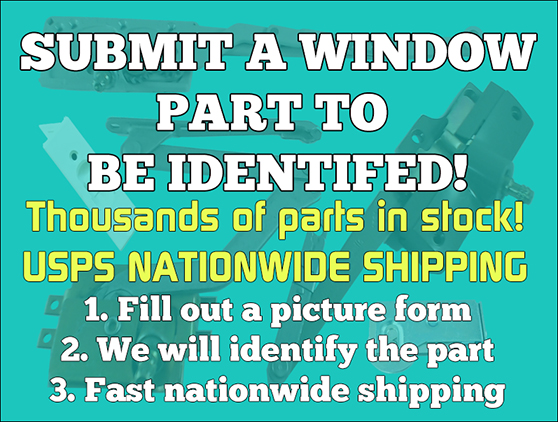 Gapco Window Parts
Are you struggling to identify the replacement parts for your Gapco windows? Perhaps you are tired of going door-to-door searching for the right parts that match your windows' specifications. Worry no more! At our company, we specialize in identifying window parts for Gapco windows, sourcing them, and delivering them to you anywhere in the United States.
About Gapco Windows
Gapco, founded in 1981, is a leading manufacturer of high-quality windows and doors. The company prides itself on providing innovative and technology-driven products that enhance comfort and satisfaction for their customers. Gapco offers an array of window styles, including single and double-hung, slider, casement, and picture windows, among others.
Gapco windows are popular because they are energy-efficient, reduce exposure to outside noise, and are aesthetically pleasing. They also have durable, low-maintenance materials such as PVC or vinyl frames. With proper installation and maintenance, Gapco windows can last for decades.
Common Replacement Parts for Gapco Windows
Like any other mechanical system, windows are susceptible to wear and tear, which may necessitate repairs or replacements. Some of the common replacement parts for Gapco windows include:
Window Glass – If your window glass is damaged or foggy, it might be time to consider a replacement. Foggy windows could be a result of condensation between the panes, indicating that the window seal is no longer airtight. In such instances, replacement is necessary to restore the window's insulating capabilities.
Locks and Latches – Faulty locks and latches can compromise your window's security and provide easy access for intruders. If your window lock or latch is malfunctioning or broken, it's important to have it fixed or replaced.
Window Screens – Window screens are essential in keeping out insects and debris from your home. If your window screen is torn, damaged, or no longer fits correctly, replacement is necessary.
Window Frames – Window frames are an integral part of window durability and energy efficiency. If your window frame is damaged or rotting, it may lead to issues such as air leaks, water infiltration, and decreased insulation.
Weatherstripping – Weatherstripping helps to keep your home insulated and free from drafts. If your window weatherstripping is damaged or worn out, it's best to replace it to prevent energy loss and other related problems.
How We Identify Suitable Replacement Parts for Gapco Windows
Identifying the right replacement parts for your Gapco windows can be challenging, especially if you don't know what to look for. At our company, we have specialists who will help identify the parts you need, source them, and deliver them to you.
To identify the parts, we start with a consultation where we ask you a series of questions about your windows, such as the model, size, glass type, and the type of parts you require. We will also ask for pictures of your windows as that can help us make a more accurate identification.
After getting all the necessary information, we use our extensive database and experience in the industry to identify the exact parts for your windows. We have relationships with various manufacturers, allowing us to get quality parts at affordable prices.
Why Choose Our Gapco Window Part Identification Services
1. Expert advice – Our specialists have years of experience in the industry, and they will offer valuable insights and recommendations on the best parts for your windows.
2. Wide range of parts – We have a vast inventory of parts for Gapco windows, making it easy for us to find replacements for any part of your window that may need fixing.
3. Timely delivery – We understand how important it is to have functioning windows. That's why we offer timely delivery to ensure you don't have to wait too long to have your windows repaired or replaced.
4. Competitive pricing – We have negotiated with various manufacturers to get competitive pricing on quality parts.
Frequently Asked Questions
Can I install the replacement parts myself? Yes, you can install the replacement parts yourself if you are proficient in DIY home repairs. However, if you are unsure of your skills, it's best to have a professional do it for you.
How do I know the right size of the replacement parts to order? It's best to provide accurate measurements of your windows to ensure you get the right size of replacement parts.
How long does it take to get the replacement parts? We offer timely delivery, and the length of time will depend on your location and availability of the parts.
What is the cost of replacement parts for Gapco windows? The cost of replacement parts for Gapco windows will depend on the type of part and your location.
How often should I replace my windows? The lifespan of your windows will depend on factors such as maintenance, quality of installation, and exposure to elements. Generally, windows can last for 20-25 years with proper maintenance.
Can I repair broken or cracked glass instead of replacing it? In some cases, it's possible to repair broken or cracked glass if the damage is minor. However, major damage may necessitate replacement.
How do I know if my windows need replacement parts? If you observe issues such as drafts, foggy glass, difficulty opening or closing the window, or visible damage to the window frame, it may indicate that you need replacement parts.
What are the benefits of replacing windows? Replacing windows can increase energy efficiency, improve indoor air quality, increase your home's resale value, and enhance aesthetic appeal.
Is it possible to get customized replacement parts for my Gapco windows? Yes, it's possible. We can work with you to identify and source customized replacement parts that match your window specifications.
What if the replacement parts I ordered don't fit? We ensure that we have accurate measurements and specifications before ordering the parts. However, if the parts don't fit, we will work with you to resolve the issue and get you the right parts.
Identifying the right replacement parts for your Gapco windows can be challenging, but with our professional expertise and vast inventory, we can help simplify the process for you. Our commitment to delivering quality products and exceptional service ensures that you get the best experience possible. Contact us today and let us help you with all your Gapco window part identification and replacement needs.
---
Disclaimer: Please note that we are an independent entity and are not affiliated with or endorsed by the aforementioned company. Our services solely focus on providing part identification assistance by utilizing the information you provide and forwarding it to various suppliers or sources. Furthermore, we cannot be held liable for any transactions, disputes, damages, or losses arising from your interactions or dealings with the suppliers or sources we connect you with. Any reliance on the information provided by us or the suppliers is at your own risk.
All trademarks, or trade names mentioned or used on this website, or any related materials are the exclusive property of their respective owners. The use or mention of these trademarks, or trade names does not imply any endorsement, sponsorship, or affiliation with this platform or its operators unless expressly stated otherwise. Any references made to third-party trademarks, trade names, or logos are solely for informational purposes of such intellectual property.