Kinco Hardware Parts
Having a way to identify your Kinco Window Parts online should be easy.
Identify Parts has provided Kinco part identification and window hardware replacement parts over fifteen years we always provide an excellent service and backing it up with our knowledgeable window parts team. Our trained staff is professional and qualified to handle any kind of hardware identification. Need a part now? We are pleased to discuss our Kinco identification service for the home or rental property.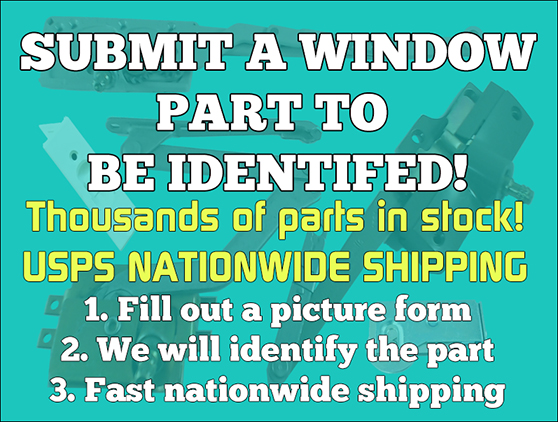 Kinco Window Parts
Identifying the correct Kinco window parts is critical for the proper operation of your windows. Our organization provides identification services as well as local and national delivery of parts. Our knowledgeable staff will assist you in locating the perfect part for your window, ensuring that it is both energy-efficient and functional. Please contact us right away if you require window components.
Importance of Identifying The Right Kinco Window Parts
Finding the appropriate parts for your Kinco window can be difficult. Without the necessary parts, your window will not function properly, causing discomfort and compromising your security system. It is critical to have the necessary Kinco window parts on hand, whether you need to replace a broken window lock, handle, or hinge. Understanding the components of your Kinco window is vital for repairing or replacing them as needed. The key to recognizing the correct window parts is knowing the model number, which allows you to purchase the correct parts.
Understanding Kinco Window Parts
Locks, knobs, balances, and other hardware are all available as Kinco window parts. Identifying which precise Kinco part you require can be difficult, especially if you are unfamiliar with Kinco windows. We have an experienced team of windows experts who have extensive knowledge of Kinco window parts and can aid you in distinguishing between different models and types of parts.
Kinco window components identification is classified into several categories. Balances, handles, hinges, and locks are the most common. Balances are the mechanisms that hold the window sash in place and allow it to move up and down. Handles can be found anywhere on the window, from the bottom rail to the sides. Hinges allow your window to open and close easily, whereas locks keep the window secure. Understanding the many categories of Kinco window parts allows you to easily identify the components that need to be replaced and ensure that your window runs well.
Our Kinco Parts Identification Services
Our organization takes pleasure in providing Kinco window parts identification services. To ensure that the parts are correctly recognized, our skilled team use cutting-edge technologies. We take the uncertainty out of locating the correct Kinco window parts. Our crew can immediately identify your window's model number and provide you with the appropriate parts, making things simple for you.
Our services include a free consultation in which our professionals offer recommendations on replacing items, such as faulty locks, handles, hinges, or balances. Once you have identified the parts you need, we will ship them to you anywhere in the United States. We provide economical replacement window parts, ensuring that your windows are in good working order without breaking the bank.
How To Identify Kinco Window Parts
Kinco window parts identification does not have to be difficult. First, you must establish the window's model. The model number is normally found on a label or sticker situated on the window jamb. If you can not find the model number, visit an expert or use technical resources to find it. After determining the model number, you can proceed to determining the necessary parts. It is critical that the pieces are compatible with your window.
Another important factor to consider when identifying Kinco window parts is the problem you are attempting to solve. For example, if your window is difficult to open or close, you may need to replace the balance. Identifying the precise problem will aid in picking the best replacement item. It is recommended that you get advice from our team of professionals, especially if you are unsure of the problem or the part required.
Common Kinco Window Parts
There are several Kinco window parts that are common in most Kinco windows. Some of these parts include:
Handles – Handles are a vital component of any window, allowing easy opening and closing. Kinco windows have handles available in various designs and sizes, so finding the right one for your window is critical.
Balancers – Balancers keep the window sash in place as you open and close the window. Kinco windows typically have balancers made of metal or plastic.
Hinges – Hinges are necessary for keeping your windows in place. They allow you to open and close your windows effortlessly. Kinco windows typically have hinges made of metal, vinyl, or plastic.
Locks – Window locks help keep the window closed and secure. Kinco windows often have locks with metal parts, including the mechanism that keeps the window in place.
Frequently Asked Questions
What happens if I do not know the model number for my Kinco window? Our team can assist you in finding the model number for your window. We have the necessary technical resources needed to identify different Kinco window models.
How do I identify a broken part in my Kinco window? If you are experiencing difficulty opening or closing your window, inspect the parts for signs of wear and tear. Broken parts can include handles, locks, balancers, or hinges.
How long does it take to ship Kinco window parts? Shipping time for Kinco parts depends on your location. However, we strive to deliver the parts as soon as possible to ensure your window can operate smoothly.
Can I replace Kinco window parts myself? Yes, you can replace damaged or broken Kinco window parts yourself, provided you have the necessary experience.
What factors affect the cost of Kinco window parts? The cost of Kinco window parts can vary depending on several factors, including their type, model, and size, among other things.
How long does it take to identify Kinco window parts? Our team can identify Kinco window parts within a few minutes, depending on the issue and complexity of the window.
How do I ensure that the Kinco window parts are compatible with my window? We have an experienced team that will assist you in locating the correct parts for your Kinco window. This ensures that the parts are compatible and will function correctly with your window.
Are there any safety measures that I need to follow when repairing or replacing Kinco window parts? Yes, it's essential to observe safety precautions when repairing or replacing Kinco window parts. This includes wearing gloves, safety glasses, and exercising caution when handling the parts.
---
Disclaimer: Please note that we are an independent entity and are not affiliated with or endorsed by the aforementioned company. Our services solely focus on providing part identification assistance by utilizing the information you provide and forwarding it to various suppliers or sources. Furthermore, we cannot be held liable for any transactions, disputes, damages, or losses arising from your interactions or dealings with the suppliers or sources we connect you with. Any reliance on the information provided by us or the suppliers is at your own risk.
All trademarks, or trade names mentioned or used on this website, or any related materials are the exclusive property of their respective owners. The use or mention of these trademarks, or trade names does not imply any endorsement, sponsorship, or affiliation with this platform or its operators unless expressly stated otherwise. Any references made to third-party trademarks, trade names, or logos are solely for informational purposes of such intellectual property.