Marshall Hardware Parts
Having a way to identify your Marshall Window Parts online should be simple.
Identify Parts has provided Marshall part identification and window hardware replacement parts over 15 years we always provide an excellent service and backing it up with our knowledgeable window parts team. Our trained staff is professional and qualified to handle any type of hardware identification. Need a part now? We will be very happy to discuss our Marshall identification service for your home or rental property.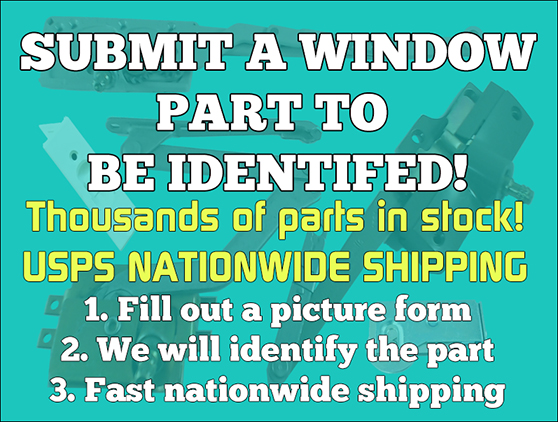 Need a replacement part for your Marshall Window?
This is where our window part identification services come in. At our company, we offer top-of-the-range window part identification services aimed at helping our customers get the right parts they need for their Marshall Windows. In this article, we delve deeper into why window part identification services are essential, how we go about identifying the parts, and how we ship the parts nationwide.
Why Window Part Identification Services are Essential
Window part identification services are essential because identifying the specific parts required for a window can be a tedious and challenging process. With many window manufacturers offering a vast array of products, it can be challenging to navigate and find the right part you require. However, with our window part identification services, we have simplified the process of finding the right part for you by using the following methods:
Illustration Number-based Identification
Often, window part identification services will require you to provide them with the brand and model of your window. However, for Marshall Windows, we take things a step further by relying on illustration number-based identification. This method requires you to provide us with images of the specific part that needs replacing to help us identify the correct part. Once we have all the information we need, we can match the illustration number with the appropriate part in our stock.
Measurement-Based Identification
Another way we identify parts for our customers is by taking measurements of the window and then matching the measurements with the correct part in our stock. Taking accurate measurements can be a tricky business, so we advise that you rely on our expert team for help to ensure that you get precise measurements. Once we have the measurements, we can match them with the relevant part in our stock.
Unique Identification Codes
At our company, we use unique identification codes to help make window part identification as easy as possible. This identification code scheme helps us organize and identify the right parts for our customers quickly. The identification code also ensures that the correct part is shipped to the right address.
Shipping Nationwide
After identifying the correct window part, we will ship it quickly to your address nationwide. Thanks to our widespread delivery network, you will receive your window parts within a few working days of placing your order. Our team will provide you with a tracking number so that you can track and trace your delivery.
Before making any order, we advise our customers to confirm if the part ordered is the right one they need for their windows. We, however, encourage our customers to lean on our expertise by providing us with all the relevant information we need to identify the right part.
How to Order
Ordering window parts from our company couldn't be easier. The first step is to visit our website and submit the form with a clear description of the part you need with as much detail as possible. You can add images of the part or your window for identification. Our team will then confirm the identification of the part, and you can place your order.
Alternatively, you can call our team of experts who will guide you through the ordering process. They will also help you identify the right part you need for your Marshall Windows before placing your order.
Frequently Asked Questions
What steps should I take to identify the right window parts? Identifying the right window part requires you to provide as much information as possible, such as the brand, model, and images or measurements of the part. You can also seek advice from our team of experts.
Can I order window parts if I'm not sure of the make and model? It is best to provide us with as much information as possible as this makes it easier for us to identify the right part. We can still help you identify the part with images and measurements; however, it is best to have as much information as possible.
Can you send replacement parts to any address in the US? Yes, we can ship your replacement parts anywhere in the US regardless of where you are located.
How long does it take to identify the correct part? We endeavor to identify the correct part as quickly as possible. While this might take a few hours or days, other complex cases may take longer.
Can I get same-day delivery? We do not offer same-day deliveries, but we do offer deliveries within a few working days of placing an order.
What happens if my replacement part is not the correct one? If you receive a replacement part that does not fit your window, contact our team immediately to discuss the issue. We'll investigate the matter and offer to replace the part or offer a refund.
Are all Marshall parts interchangeable? Not all Marshall parts are interchangeable. But with our window part identification services, you can be sure that the part you receive is the correct one for your window.
---
Disclaimer: Please note that we are an independent entity and are not affiliated with or endorsed by the aforementioned company. Our services solely focus on providing part identification assistance by utilizing the information you provide and forwarding it to various suppliers or sources. Furthermore, we cannot be held liable for any transactions, disputes, damages, or losses arising from your interactions or dealings with the suppliers or sources we connect you with. Any reliance on the information provided by us or the suppliers is at your own risk.
All trademarks, or trade names mentioned or used on this website, or any related materials are the exclusive property of their respective owners. The use or mention of these trademarks, or trade names does not imply any endorsement, sponsorship, or affiliation with this platform or its operators unless expressly stated otherwise. Any references made to third-party trademarks, trade names, or logos are solely for informational purposes of such intellectual property.