Norco Hardware Parts
Having a way to identify your Norco Window Parts online should be simple.
Identify Parts has provided Norco part identification and window hardware replacement parts over 15 years we always provide a great service and backing it up with this knowledgeable window parts team. Our trained staff is professional and qualified to handle any kind of hardware identification. Need a component now? We are thrilled to discuss our Norco identification service for your home or rental property.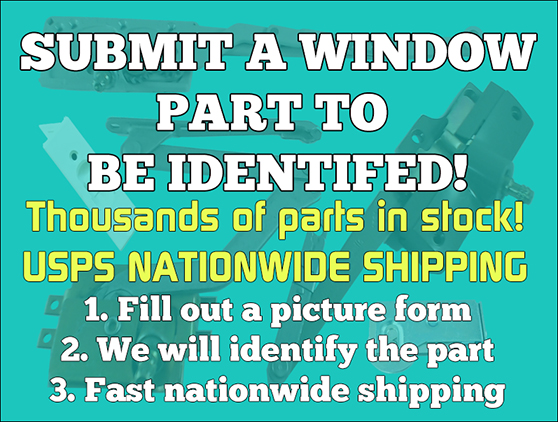 Norco Window Parts
With our expert window part identification service and nationwide shipping, you can quickly and easily find the exact part you need for your Norco window and have it installed in no time. Don't hesitate to contact us for more information or to place an order today.
We Identify Parts for Norco Windows
We will cover all you need to know about Norco windows in this tutorial, including their history, typical problems that call for replacement parts, and how to recognize the precise component you need. We will also explain how we identify window components, offer advice on how to install replacement parts correctly, and respond to your commonly asked concerns concerning window parts and replacement.
Norco Windows: A Brief History
Residential and commercial windows by Norco are available in a variety of styles, including double-hung, casement, awning, and sliding windows. All of Norco's windows are created to be strong, long-lasting, and attractive.
Although Norco windows are made to function flawlessly for many years, they occasionally have problems that necessitate the replacement of certain parts. Hardware issues with Norco windows, such as broken or damaged locks, handles, and crank operators, are among the most frequent issues. Other frequent problems include cracked glass, worn-out balances and rollers, and damaged weatherstripping.
Finding the precise replacement part might be difficult, especially if you are not familiar with all of the parts that make up a window. Our window component identification service, on the other hand, is intended to make this procedure simpler and assist you in locating the precise part you want.
Window Part Identification Process
Our window part identification procedure is straightforward and user-friendly. Giving us some basic information about your Norco windows, such as the kind of window and the precise component that needs to be replaced, is the first step. You may do this by contacting our toll-free number or by filling out our online submission form.
Our team of specialists will start searching through our enormous database of window parts and components as soon as we get your information in order to discover the precise match for your Norco window. We match the component to your window model using cutting-edge technology and years of expertise, assuring a flawless fit each and every time. We will get in touch with you once we have determined the part's identity and pricing.
Tips for Installing Replacement Parts
If you have never done it before, replacing parts in your Norco windows might seem like a difficult undertaking. However, it may be a rather easy procedure if you have the correct instruments and some basic understanding. The following advice will assist you in installing new components in your Norco windows:
1. Make sure you have the right tools and equipment, including screwdrivers, pliers, and a putty knife.
2. Carefully remove the old part, taking note of how it was installed and any necessary adjustments that need to be made to the new part.
3. Clean the area around the replacement part and make any necessary adjustments before installing the new part.
4. Install the new part carefully, making sure it is aligned properly and all screws and fasteners are tightened securely.
5. Test the new part to make sure it is working properly before moving on to the next step.
Frequently Asked Questions
1. How long does it take to receive the replacement part after placing an order? We process all orders within 24 hours and ship the replacement part via USPS, FedEx or UPS. Delivery times vary depending on your location, but most orders are delivered within 2-7 business days.
2. Can you identify replacement parts for windows other than Norco? Yes, we can identify and provide replacement parts for a wide range of windows and brands.
3. Can you provide installation instructions for replacement parts? Yes, we can provide installation instructions for most replacement parts.
5. What payment methods do you accept? We accept all major credit cards, as well as PayPal and Apple Pay.
6. Can you provide custom-sized replacement parts? Yes, we can provide custom-sized replacement parts for many windows. Please contact us for more information.
How much does your window part identification service cost? Our window part identification service is completely free. You only pay for the cost of the replacement part and shipping.
Do you offer expedited shipping? Yes, we offer expedited shipping for an additional fee. Please contact us for more information.
Is your website secure for online ordering? Yes, our website is secured by SSL encryption, which ensures that all of your personal and financial information is protected.
---
Disclaimer: Please note that we are an independent entity and are not affiliated with or endorsed by the aforementioned company. Our services solely focus on providing part identification assistance by utilizing the information you provide and forwarding it to various suppliers or sources. Furthermore, we cannot be held liable for any transactions, disputes, damages, or losses arising from your interactions or dealings with the suppliers or sources we connect you with. Any reliance on the information provided by us or the suppliers is at your own risk.
All trademarks, or trade names mentioned or used on this website, or any related materials are the exclusive property of their respective owners. The use or mention of these trademarks, or trade names does not imply any endorsement, sponsorship, or affiliation with this platform or its operators unless expressly stated otherwise. Any references made to third-party trademarks, trade names, or logos are solely for informational purposes of such intellectual property.