Pacesetter Hardware Parts
Having a method to identify your Pacesetter Window Parts online should be easy.
Identify Parts has provided Pacesetter part identification and window hardware replacement parts over fifteen years we always provide a great service and backing it up with our knowledgeable window parts team. Our trained staff is professional and qualified to handle any kind of hardware identification. Need a component now? We will be thrilled to discuss our Pacesetter identification service for the home or rental property.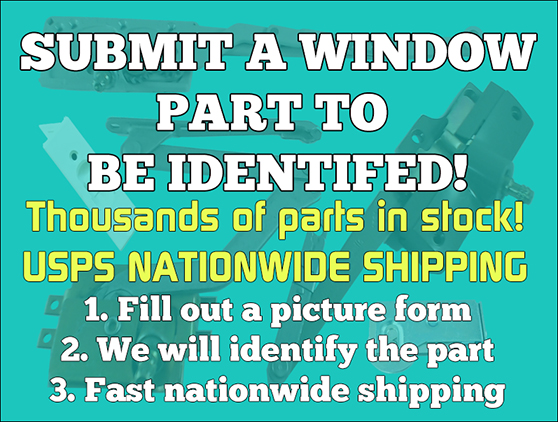 Pacesetter Window Parts
Identifying and replacing parts for Pacesetter windows can be challenging, especially if you lack the knowledge, tools, or resources to do so. That's why we offer a comprehensive window part identification and shipping service for all Pacesetter models, helping you save time, hassle, and money on your window repair or replacement project.
Windows are essential components of our homes and commercial buildings, providing much-needed ventilation, natural light, and aesthetic appeal. However, over time, they may suffer from wear and tear, damages, or obsolescence, where some parts need replacement to maintain their functionality, safety, and efficiency. Unfortunately, identifying the right window parts can be a daunting task, especially for the untrained eye, as manufacturers may use various models, sizes, and materials that may differ based on the window's age, location, and application. That's where we come in. Our company specializes in window part identification services, using our expertise and broad network of suppliers to locate and ship genuine and compatible parts for Pacesetter Windows and other brands nationwide. In this article, we explore our services, benefits, and insights about Pacesetter windows and parts, based on our years of experience, feedback from customers, and research.
We Identify Parts for Pacesetter Windows
Pacesetter was a popular window brand that was owned and operated by Alenco Inc., a Texas-based company that was founded in 1946. Pacesetter windows were known for their durability, energy efficiency, and affordability, and they offered a range of window styles, such as double-hung, casement, slider, picture, bay, and bow windows, among others. However, since Pacesetter windows were discontinued in the early 2000s, it may be challenging to find the right parts for Pacesetter windows, especially for those who have older windows. Sometimes, Pacesetter windows may also require parts that are specific to their model, such as glazing beads, sash locks, balance systems, weatherstripping, screens, and handles, among others.
That's where our window part identification services come in. We have a team of experts who are trained to identify the right parts for Pacesetter windows, based on their model, age, and other factors. We can help you find the exact part you need, even if you don't have the original part number or documentation.
Benefits of Using Our Services for Collecting Pacesetter Parts
Using our window part identification services for Pacesetter windows has many benefits, including:
Saving Time and Hassle – If you try to locate and purchase the parts for your Pacesetter windows yourself, you may have to visit several hardware stores or window dealers, call different manufacturers, and compare prices and specifications. This can be time-consuming and frustrating, especially if you are not sure about the exact part you need. With our services, you can save time and hassle by letting us do the heavy lifting. We'll handle the search, identification, and shipping process for you, so you can focus on other aspects of your home or office maintenance.
Getting Expert Assistance – Our team of experts has years of experience in the window industry, and we have helped many customers locate and replace parts for their Pacesetter windows. We know the ins and outs of different Pacesetter models, materials, and parts, and we can provide you with helpful tips and advice for maintaining and repairing your windows. If you have any questions or concerns about your Pacesetter windows, feel free to contact us, and we'll be happy to assist you.
Accessing Genuine and Compatible Parts – One of the challenges of finding parts for discontinued window brands is that some parts may no longer be available or may be produced by a different manufacturer, which may affect their quality, compatibility, or warranty. With our services, you can be sure that the parts you receive are genuine or compatible and meet industry standards and regulations. We work with reputable suppliers who offer high-quality Pacesetter window parts that are designed to fit and function correctly.
National Shipping – We offer a nationwide shipping service for all parts for Pacesetter windows, so no matter where you live, we can deliver the parts you need to your doorstep. We use reliable shipping carriers and tracking services to ensure that your order is delivered safely and timely. We also offer competitive pricing and discounts for bulk orders, so you can save money on your window repair or replacement project.
Pacesetter Window Problems and Solutions
While Pacesetter windows were known for their durability and energy efficiency, they are not immune to various issues that may affect their performance and longevity. Some of the common problems that Pacesetter windows may face include:
Foggy Windows – If you notice that your Pacesetter windows have condensation or moisture between the panes, it may indicate that the window's seal has failed, allowing air and moisture to seep in. This can affect your window's energy efficiency, as it reduces the insulating layer between your indoors and outdoors. To fix foggy windows, you may need to replace the insulated glass unit (IGU), which consists of the glass panes, sealant, and spacers.
Drafts and Leaks – If you feel air coming through your windows, or you notice water stains or mold around your windows, it may indicate that your windows are leaking or have gaps. This can affect your home's comfort, air quality, and integrity, as it allows pests, dust, and allergens to enter your home. To fix drafts and leaks, you may need to replace the weatherstripping, insulation, or sealant around your windows, or repair the window frame or sash if they are damaged.
Cracked or Broken Glass – If your Pacesetter windows have cracked or broken glass, it can affect their safety, security, and aesthetic appeal. It can also expose your home to weather elements, such as heat, cold, wind, and rain. To fix cracked or broken glass, you may need to replace the glass pane, which may require measuring the exact size of the pane and ordering a new one that matches the original. You may also need to replace the glazing beads or other parts that secure the glass pane in place.
Stuck or Hard-to-Operate Windows – If your Pacesetter windows are hard to open or close, or they are stuck in one position, it can affect your ventilation and accessibility. It may also indicate that the window's balance system, roller, or track is damaged or worn out. To fix stuck or hard-to-operate windows, you may need to lubricate the tracks, hinges, or rollers, or replace the sash or balance system.
FAQ
Are Pacesetter windows still available on the market? No, Pacesetter windows were discontinued in the early 2000s, but we offer window part identification services and shipping for all Pacesetter models.
How can I identify the model of my Pacesetter window? You can look for the manufacturer's label on your window, which should include the model, size, and serial number of your window. You can also take measurements of your window and compare them to the manufacturer's specifications.
How long does it take to receive my Pacesetter window parts? It depends on the availability of the parts and your location. Typically, it takes 3-7 business days for the parts to arrive once you confirm your order.
Can I install Pacesetter window parts myself, or do I need a professional? It depends on your skills and experience in window repairs. Some parts, such as weatherstripping or sash locks, may be easy to install yourself, while others, such as insulated glass units or balance systems, may require specialized tools and knowledge. We recommend consulting with a professional installer if you are unsure about the installation process.
How do I measure my Pacesetter window for replacement parts? You can measure the height, width, and thickness of your window frame or sash using a tape measure, and compare the measurements to the manufacturer's specifications. You can also email us photos and measurements of your window, and we'll help you identify the parts you need.
---
Disclaimer: Please note that we are an independent entity and are not affiliated with or endorsed by the aforementioned company. Our services solely focus on providing part identification assistance by utilizing the information you provide and forwarding it to various suppliers or sources. Furthermore, we cannot be held liable for any transactions, disputes, damages, or losses arising from your interactions or dealings with the suppliers or sources we connect you with. Any reliance on the information provided by us or the suppliers is at your own risk.
All trademarks, or trade names mentioned or used on this website, or any related materials are the exclusive property of their respective owners. The use or mention of these trademarks, or trade names does not imply any endorsement, sponsorship, or affiliation with this platform or its operators unless expressly stated otherwise. Any references made to third-party trademarks, trade names, or logos are solely for informational purposes of such intellectual property.