Depending on the replacement part you require we will need several photos. We are providing a how to guide for determining what window part you require. Our team wants to make this process easy for you and provides a list of items that will assist homeowners, landlords or contractors with sending the correct picture of the window part for us to identify them for you.
Identifying a Window Latch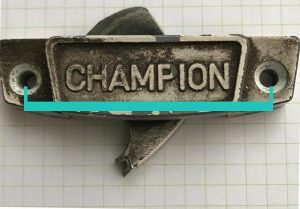 For a window latch we will require a picture of the face of your part and the screw hole spacing from center to center of the item. By giving us close-ups of photos and any marking on the latch itself we can figure out what you need. Your window latch can be from a multitude of different manufacturers and can have small subtle differences that need to be pictured for one of our part identification team members to get you the correct hardware.
Identifying a Window Balance
Since there are several types of balances we will go over a few of the common ones and let you know what we require from each of them along with pictures. You can match up your window balance to one of the pictures below (If you do not see it just send over a picture and we will assist you to identify window parts and with what we need from the item).
Spiral Balance Rods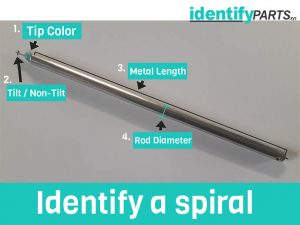 One of the more common window balance types is a spiral balance rod, you will find these inside the channel of your window and when this fails to operate correctly can cause the window to either get stuck or fall right back down after attempting to open them.
We need to know what color tip you have. This colored tip will disclose how much weight each spiral balance can hold. The common colors of spiral balances are orange, red, green, blue and black but can come in other colors as well.
We need to know the thickness of the balance rod they can come in varied sizes such as 3/8th's and 5/8th's diameter.
We need to know the length of your spiral balance without the nylon tip, just the metal or plastic pole length (see picture).
Does your window tilt-in for cleaning or is it a non-tilt.
Channel Balance Rods
To identify a channel balance rod, you will have to remove the item from the window completely. The channel balances will normally be tucked into the channel of the window just like the spiral balances above. We require the stamping code on the balance, normally it will be a four-digit number or two numbers and a letter near the bottom of the balance. Along with photos of the Channel balance and the plastic caps on the top and bottom.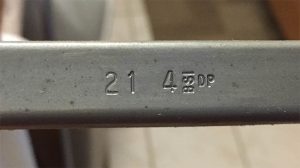 Note: If you do not see a number which is sometimes covered by grime or dust you will have to measure the balance rod, (metal only) weigh the sash & send with photos.
Identifying an Operator
There are many types of operators ranging from casement operators to awning operators and a multitude of lengths, sizes and manufacturers some can be obsolete and some common. We will go over the best methods of figuring out what operator you require and give you a few tips on sending the correct photos, so we can determine what you need quicker.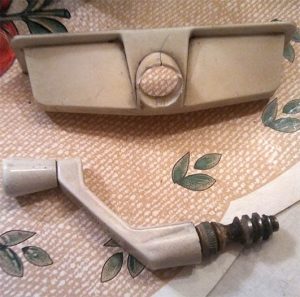 Casement Operators
You will have the remove the operator from the window OR you can also open the window, so we can see pictures of the arm's length. Your casement operator is the whole control arm for your window, so if the entire crank handle including the gear comes off or snaps off you will need a new operator; not a new handle. We will also need to know which way your window swings out from depending on the type of operator you need because some are handed, and some are not.
Identifying Awning Operators
For awning operators, we require a picture showing the entire hardware unit as well as the length of the operator while it is closed from tip to tip. If you require the cover or handle we will require good photos of those as well preferably a close-up snapshot. By providing us several photos to lookover our team can figure out what you need much quicker.
In conclusion there are several distinct types of parts that we can identify for you. If you see screw hole spacing such as for patio door sliding handles just measure those so we can get the correct part. If you are ready to identify a part you can scroll below for a form, or just send us out an email and one of our team members will get back to you as soon as possible. Visit us on social media! Follow us on our twitter page.