Craftline Hardware Parts
Having a method to identify your Craftline Window Parts online should be easy.
Identify Parts has provided Craftline part identification and window hardware replacement parts over fifteen years we always provide a good service and backing it up with this knowledgeable window parts team. Our trained staff is professional and qualified to handle any type of hardware identification. Need a part now? We are pleased to discuss our Craftline identification service for your home or rental property.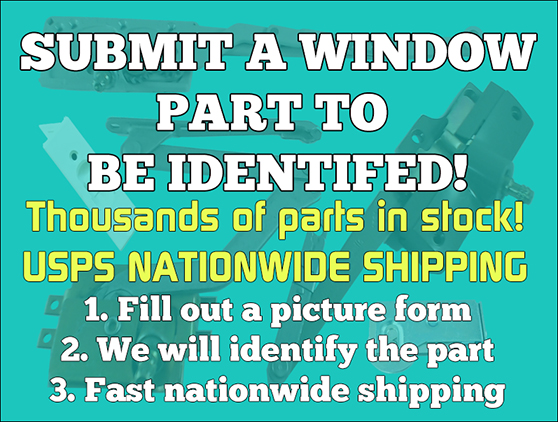 Craftline Window Parts
Having trouble deciding which Craftline part you require? Our team will determine the Craftline hardware you require and provide you with a price after you send us a few clear photos. We deliver across the country to all 50 states and Canada.
If you own a residence or establishment with Craftline windows, you are aware of the significance of maintaining everything in excellent condition. Sadly, things can wear out or break, leaving you to wonder where to find the appropriate parts.
That is where our business steps in. We provide window part identification services as well as nationwide shipping of the parts. With our assistance, you can quickly restore the optimal performance of your Craftline windows.
What Are Craftline Windows?
A well-known window brand in the 1980s and 1990s was Craftline. These windows had a timeless design that complemented a variety of architectural styles and were constructed from sturdy materials.
Vinyl frames and double-glazed glass were typically used in the construction of craftline windows. Additionally, they had a tilt-in design that made it simple to clean the glass on both sides.
Why Do Craftline Windows Need Replacement Parts?
Craftline windows can deteriorate over time, just like any other type of window. As a result, there might be worn-out or broken parts that need to be replaced.
The following are a few of the most typical Craftline window replacement parts:
* Tilt latches
* Balances
* Locks
* Handles
* Screens
* Weatherstripping
Without these parts functioning properly, your windows may not be able to open and close as they should. They may also let in drafts, which can increase your energy costs.
How Do We Identify Parts for Craftline Windows?
Finding the appropriate replacement parts for your Craftline windows can be difficult, especially if you have no prior window repair experience.
Our team can help in this situation. Craftline windows are just one of the many types of windows we have worked with over the years. We can assist you in pinpointing the precise components required to restore your windows' optimal performance.
When you contact us for part identification, we'll ask you a few questions about your windows. We'll want to know the following:
* The type of window you have (double-hung, sliding, etc.)
* The year the window was installed
* The approximate size of the window
* The part(s) that need to be replaced
With this information, we'll be able to locate the right parts for your Craftline windows.
How Do We Ship the Parts?
The parts will be shipped to you using the carrier of your choice once we have determined which ones are appropriate for your Craftline windows.
We provide express shipping options for an additional cost because we recognize that you might be pressed for time and need your windows repaired quickly. You will receive your parts as soon as possible thanks to this.
How Can You Install the Parts?
Craftline window replacement part installation is typically a simple process, despite its intimidating appearance.
We advise that you adhere to the manufacturer's guidelines provided with your replacement parts. We can recommend a dependable window repair expert who can complete the task for you if you are not confident about installing the parts yourself.
Why Choose Our Company?
When it comes to window part identification and shipping, there are many companies to choose from. Here's why we think you should choose us:
* We have years of experience working with all types of windows, including Craftline.
* We offer fast and reliable shipping options.
* We're committed to providing excellent customer service.
* We can help you find the exact replacement parts you need to get your windows back to optimal functionality.
With our help, you can get your Craftline windows in working order again and enjoy all the benefits they have to offer.
FAQs
Will You Be Able to Find Replacement Parts for My Older Craftline Windows? Yes! We specialize in identifying replacement parts for all types of Craftline windows, regardless of their age.
What If I'm Not Sure Which Parts I Need? No problem. When you contact us for part identification, we'll ask you a few questions about your windows to help you determine which parts you need.
How Long Will It Take to Receive My Replacement Parts? This depends on the shipping option you choose. We offer express shipping options for an additional fee to ensure that you get your parts as quickly as possible.
Can I Install the Replacement Parts Myself? Yes, in most cases. We recommend following the manufacturer's instructions that come with your replacement parts.
How Do I Pay for the Replacement Parts? We accept all major credit cards, as well as PayPal.
Our company is passionate about assisting homeowners and business owners in maintaining the optimal condition of their Craftline windows. We provide shipping options and quick, accurate window part identification services to make sure you get the right parts.
For more information on how we can assist if you require replacement parts for your Craftline windows, get in touch with us right away.
---
Disclaimer: Please note that we are an independent entity and are not affiliated with or endorsed by the aforementioned company. Our services solely focus on providing part identification assistance by utilizing the information you provide and forwarding it to various suppliers or sources. Furthermore, we cannot be held liable for any transactions, disputes, damages, or losses arising from your interactions or dealings with the suppliers or sources we connect you with. Any reliance on the information provided by us or the suppliers is at your own risk.
All trademarks, or trade names mentioned or used on this website, or any related materials are the exclusive property of their respective owners. The use or mention of these trademarks, or trade names does not imply any endorsement, sponsorship, or affiliation with this platform or its operators unless expressly stated otherwise. Any references made to third-party trademarks, trade names, or logos are solely for informational purposes of such intellectual property.